Plasti-Fab has been CNC machining a wide range of plastics, aluminum and wood products for over 20 years. We can machine virtually any shape with dedicated 3, 4 and 5 axis machines. We cut and machine parts for many different markets such as Aerospace and Defense, Medical, Industrial, Food Service and of course the Retail Display markets. We use state of the art CAD/CAM Design and Programming software to ensure that your finished parts meet your exact specifications as well as your expectations.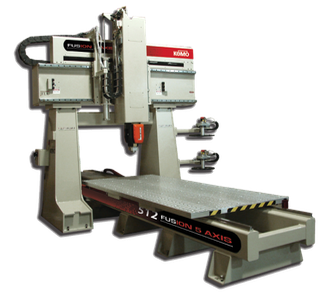 Plasti-Fab added a whole new level to our capabilities in 2014 with the addition of our Extreme Series Onsrud CNC 5 Axis Router.  This large format machines working envelope is a massive 60" x 120" x 44"tall.  This machine also has a rapid speed automatic tool changer as well as the ability to run as a single or twin table machine.  Twin tables allows Plasti-Fab to run parts on 1 table while unloading and reloading the parts on the 2nd table.  This is just another way Plasti-Fab can help drive cost down for our clients.  The 5 Axis Router can cut virtually any shape from a carved face to a vacuum formed 3-d part.  This machine makes even the most complex compound curves and angles with silky smooth transitions.  Because of the accuracy of the Extreme Series Onsrud Router Plasti-Fab is able to CNC machine 5 Axis parts with extremely tight Aerospace class tolerances when specified and to hold those tolerances from part to part.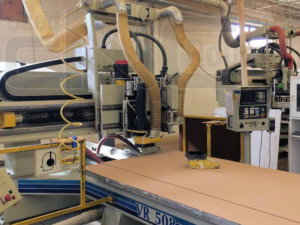 Our twin spindle 3 Axis Komo Router has a 60" x 96" table and can cut most parts under 30" in 1 dimension 2 parts at a time.  This can reduce cost significantly and helps give Plasti-Fab a competitive edge on the shops with single head machines.  This large format CNC machine is a heavy 9.5 ton beast and is amazing to watch.  It can cut intricate details and even text one moment and then be milling through 3" thick plate the next.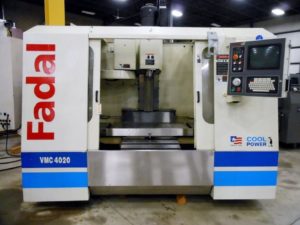 Our 4 Axis Fadal Vertical Machining Center is a medium size mill with a 40" x 20" x 20"tall working envelope.  Plasti-Fab uses the machine to cut very detailed small parts and pieces that require many different tool bits to cut.  The 4 axis machine has a fully automatic tool changer that holds 20 different tool bits which lets our programmers and machine operators pick the right tool for the right cut.  A 4 axis machine also allows some cuts that a 3 axis can't make such as cutting counter bored slots around a tube or a series of holes going around tubes or rods.
Along with these CNC Routers and Mill, Plasti-Fab also owns a world class CNC Schelling Panel Saw which can cut material blanks and parts extremely fast and with a high degree of accuracy.  This Saw compliments our other CNC machining capabilities by not only cutting finished pieces but also by panel processing blanks for further CNC Machining.
Plasti-Fab looks forward to working with you to meet your next CNC machining or contract manufacturing challenge.