The key to a successful project is thorough planning and design.
Whether we start a CAD design from scratch or build off of an existing product, we carefully think through each step of the manufacturing process to avoid any design, engineering, or production flaws.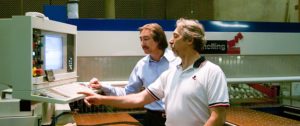 To say that Project Planning and Part Design are important in today's manufacturing world is a major understatement.  In fact they are both integral parts of what makes a successful project. At Plasti-Fab we use our 30 years of experiences in custom and production manufacturing to help guide our clients through the manufacturing process.  That means determining how a part will be used, stored, packed and shipped before the final design is produced.  It means predicting problems with the individual processes used to produce a part and finding solutions before the parts are on the production floor.
Plasti-Fab has successfully planned and produced thousands of custom projects, fabricated and machined pieces as well as display rollouts and installations.  Every single piece or project that is produced by Plasti-Fab has its own work packet that follows that piece or project through every step of production.  This packet has complete client information, quantities and descriptions of the parts ordered and a due date like any sales order.  However this work packet also has a complete breakdown of the project including material, machining and labor.  Here the project managers are able to list every component required to produce a given part form the raw plastic sheets to the box that it will be packed in at completion.  This packet includes written steps, procedures and notes on each fabrication, machining, production and packing process.  Plasti-Fab has been formally documenting these packets and process since 2002 when we were certified ISO 9002.  The use of these work packets allows Plasti-Fab to plan for and avoid costly mistakes not just on the first order but on reorders months or even years later.  These cost saving benefits ultimately make Plasti-Fab more competitive and allow us to continually improve our customer's experience.
Plasti-Fab owner Marshall K Sligar uses his nearly 40 years of hands on shop experiences to design plastic parts to be producible, function and last.  When it comes to designing displays to look great and sell product Marshall is unsurpassed.  Weather you have an existing product or design or just an idea we will use all of this expertise along with state of the art CAD Design to produce our clients a successful project.
 At Plasti-Fab Inc. our 30 years of custom and production manufacturing gives us the insight and know how to plan, design and produce your next project, part or product.